About Us
Central Square Foundation (CSF) is a non-profit organization, working towards its vision of ensuring quality school education for all children in India. Since 2012, CSF has been working in partnership with central and state governments, other non-profit organizations, and ecosystem stakeholders to improve the learning outcomes of children from low-income communities. CSF's approach across FLN (Foundational Literacy & Numeracy), ECE (Early Childhood Education) and EdTech focuses on solutions that are scalable, sustainable and effective. Our system reform approach covers the spectrum from Policy and Innovation to Practice at Scale, for sustained student learning improvements.
Our Vision
Ensuring quality school education for all children in India
Our Values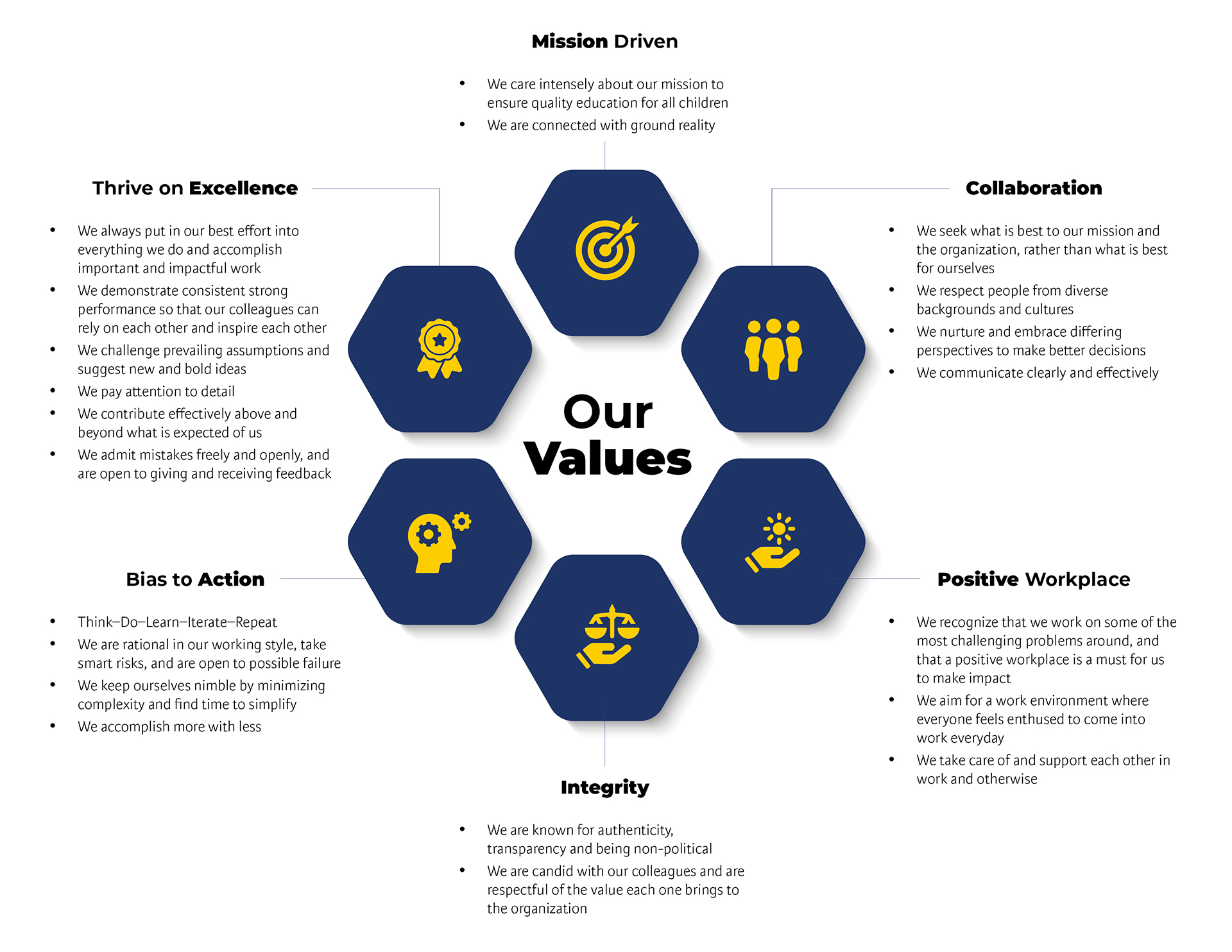 Our Donors
The Convergence Foundation
Bill & Melinda Gates Foundation
Motivation For Excellence
Our Partners
Samagra Development Associates
Language and Learning Foundation
Vikramshila Education Resource Society
Centre for Social and Behaviour Change, Ashoka University
Frequently Asked Questions
General
Does CSF work with schools?
Does CSF's work cover students in higher education institutions?
Careers at CSF
By when can I expect to hear back from CSF, if I have applied for a position?
Do I need to have prior experience in education to work at CSF?
How can I stay updated on the work that CSF is doing?
How can my organization list vacancies in CSF's newsletter EdMonitor?
Funding and Financials
Where does CSF's funding come from?
Where can I find more information on CSF's financials?
How can I fund CSF's work?
Other Information
Does CSF have any offices outside Delhi?
How can my organization, working in the education space, apply for funding from CSF/partner with CSF?
Reach out to us
Office
242 Okhla Industrial Estate, Phase 3, New Delhi - 110020
Do you want your work to create an impact in school education?
See our careers