CBSE-led National Education Policy (NEP) 2020 Reform Initiatives: Where We Are and Road Ahead
By 
Dr. Sweta Singh, Joint Secretary, Academics, CBSE and 
Nidhi Srinath
Feb 20, 2023
This article provides an overview of CBSE reforms, shared by Dr. Sweta Singh (Joint Secretary, Academics, CBSE), in three important areas- Competency-based Education, Assessments and Teacher Capacity Building, all of which are critical to strengthening the Indian education system.
The expected outcome of 17 years of schooling for children often has at its core some of the common abilities that we aspire for our children to possess; this includes confidence, awareness, and the ability to bring about positive change in society.
The National Education Policy (NEP) 2020, has set out ambitious goals to revise and revamp the national education landscape in India. It focuses on skills associated with 21st century education, while addressing contemporary developmental imperatives of the country. Education in the 21st century translates into enabling students to become lifelong learners, who carry the acumen and desire to learn, unlearn and re-learn at all critical junctures of life.
"The key overall thrust of curriculum and pedagogy reform across all stages will be to move the education system towards real understanding and towards learning how to learn – and away from the culture of rote learning as is largely present today"

National Education Policy, 2020
The Central Board of Secondary Education (CBSE) has implemented various initiatives to develop student capabilities, as envisaged by the NEP 2020. This article provides an overview of CBSE reforms in three important areas- Competency-based Education, Assessments and Teacher Capacity Building, in the subsequent sections.
Understanding the Need of Competency-based Education
CBSE emphasizes on the need to shift away from rote learning and adopt competency-based education, focused primarily on applying knowledge and skills in real life. This kind of education takes an outcome-based approach, the essential elements of which can be seen in the figure below: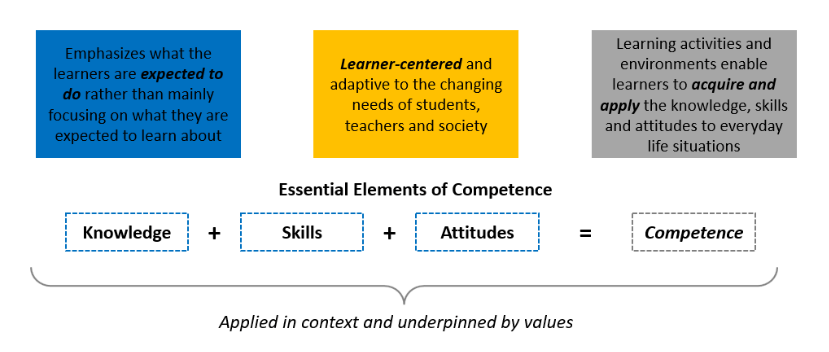 In order to translate competency-based education (CBE) into reality, the Board emphasizes the need for pedagogical interventions in day-to-day teaching learning processes. Such interventions do not require expensive or elaborate resources, but just incremental, appropriate effort from the teachers while planning lessons. Towards this end, CBSE has developed different resources- manuals and handbooks, in collaboration with partners like- British Council, Central Square Foundation, and Azim Premji University, among others, that provide actionable steps to be used to implement CBE in classrooms. The Board has also developed a CBE microsite in order to ensure adequate last mile dissemination of these resources.
Additionally, CBSE has curated numerous student enrichment activities to make learning fun and engaging for students. It also actively calls for such enrichment activities to be integrated with the curriculum, instead of treating it as a co-curricular activity. The table below reflects the range of activities that CBSE provides to students under different themes:
| | |
| --- | --- |
| Theme | Activities |
| Creative Expressions | Reading Mission Budding Authors Programme Reading Challenge Storytelling Competition Expression Series |
| Scientific and Mathematical Acumen | Science Exhibition Aryabhatta Ganit Challenge Science Challenge |
| Culture, Wellbeing and Sports | Heritage India Quiz Yuva Tourism ClubsInter School competitions in 24 disciplines at cluster, zonal and national levels Adolescent Peer Educators Programme |
| Programmes initiated by GOI | Ek Bharat Shreshtha Bharat Programme, Fit India, Swachhta Pakhwada, Ganga Cleanliness Mission and others |
2. Transforming Assessments
When it comes to Assessments, CBSE is pioneering reform initiatives within the country by focusing on assessing the level of foundational skills, core concepts and higher order competencies. CBSE Board question papers have been modified to include more diverse formats, such as assertion/reasoning questions and case-based questions. Students have also been provided with the option to choose from two levels of Mathematics examinations- Basic and Standard, in Grade 10, to cater to different kinds of learners and reduce overall student stress levels.
In order to ensure proper implementation of the CBE, the Board has developed the SAFAL assessment, which establishes a formal protocol to collect valid and reliable data to chart students' performance on competencies at and below the grade level, and monitor progress, eventually nudging the system to adopt competency-based education.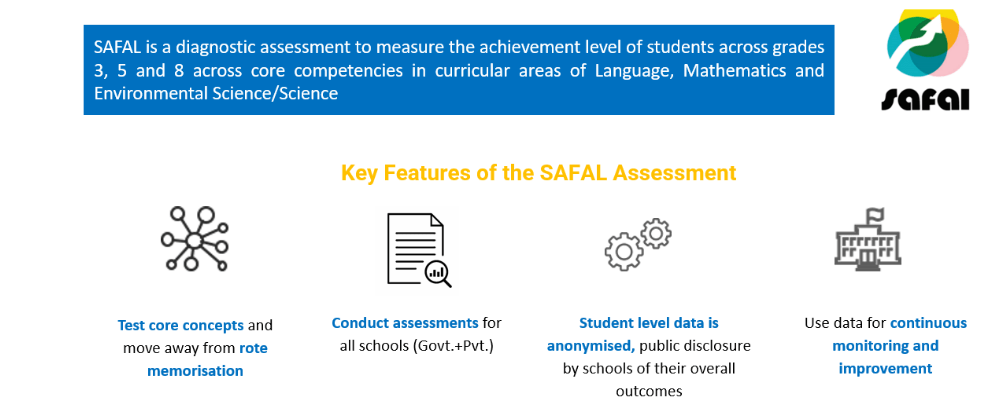 SAFAL data would generate classroom-level insights that can then be used by teachers and school heads to improve learning outcomes of children, by developing classroom-level interventions.
Furthermore, the Board has established The Centre for Excellence in Assessment for providing research-based inputs to improve the quality of all examinations as well as training of paper setters and evaluators to standardize assessment, making it consistent with international parameters. The Centre's work on education assessment systems is envisaged to range from helping schools design and implement effective classroom formative and competency-based assessment systems to working with states and other partners on both technical and practical issues associated with large-scale assessments.
3. Capacity Building for Teachers
CBSE recognises the role that teachers play in translating policies into action within the classrooms. In order to ensure that teachers are well-equipped to impart competency-based education to students, Teacher Energised Resource Materials (TERM) were curated for Grades 1-10 by the Board. These resources are aimed at supporting teachers to incorporate learning outcomes that are mapped to the NCERT framework in their day-to-day teaching and learning activities with children. To provide further comprehensive support to teachers, CBSE also developed a learning framework for different subjects based on the existing curriculum. This learning framework provides teachers with an idea of learning outcomes and learning indicators of different topics within the syllabus. A comprehensive document with model items was developed to bring everything together.

CBSE prioritizes holistic development of students and advises schools to meet social and emotional developmental needs of children, while adopting an integrated approach for transacting life skills education. To take this forward, the Board has developed resource materials for teachers and other relevant stakeholders.

This material is available at the CBSE academic website here.
Besides this, there is continuous focus on building good quality teacher capacity through the CBSE Training Unit.
Way Forward
CBSE plays an important role in leading change in the Indian education system, as envisioned in the National Education Policy 2020. As next steps, the Board plans on strengthening Board Examinations, administering and conducting SAFAL in more CBSE schools, enhancing school quality through the School Quality Assessment and Assurance (SQAA) Framework and finally, working towards making assessments more holistic. It is expected that the collaborative, as well as, the individual contributions of different CBSE schools through the Sahodaya School Complexes and the Hubs of Learning will complement the efforts taken by the Board.
Keywords
Assessments
Competency-based Education
NEP
SAFAL
Teacher Capacity Building
Authored by
Dr. Sweta Singh, Joint Secretary, Academics, CBSE
Subscribe to our Newsletters