G20 Presidency: A Transformative Journey for Foundational Literacy and Numeracy (FLN) in India
By 
Kohima Goyal
Jul 7, 2023
This blog aims to shed light on some of the key events that took place during and prior to 4th Education Working group meeting which led to the culmination of the education working group track under India's G20 presidency.
Background
India's G20 presidency in 2022 was a turning point for the country's education landscape. By prioritizing deliberations on critical thematic areas like Foundation Literacy and Numeracy (FLN), Role of Digital Technology in Education, Strengthening Research Collaboration, and Building Capacities for the Future of Work, India renewed its resolve to work with other countries for a resilient, equitable, inclusive, and sustainable future through education.
This blog aims to shed light on some of the key events that took place during and prior to 4th Education Working group meeting which led to the culmination of the education working group track under India's G20 presidency. With a specific focus on driving attention towards education reform and fostering positive change in areas of foundational literacy and numeracy, the blog draws upon CSF's on-ground experience to identify takeaways from India's G20 presidency.
Key Events
Setting the Stage for Collaborative Discussions
Seminars in Chennai, Amritsar, and Bhubaneswar: these events laid the foundation for collaborative discussions and knowledge sharing among G20 member countries, exploring themes such as digital technology, research collaboration, and capacities for the future of work.
Creating Mass Awareness through Janbhagidari Events
India organized people's participation events from June 1-15, 2023, in schools and districts, raising public awareness on FLN and India's G20 presidency. Collaborating with various autonomous bodies and educational institutions, these events reached millions of people across states, districts, blocks, schools, and communities. The impact of this nationwide mass awareness drive on FLN was substantial and reached over 52 million people. Furthermore, the MyGov App witnessed over 3,40,000 Shiksha Sankalp/oaths taken, solidifying the nation's commitment to FLN.
National Conference on FLN: Creating the Base for Lifelong Learning
The two-day National Conference in Pune, held on June 17-18, 2023, brought together stakeholders from the education sector to share insights, experiences, and research outcomes on FLN. It focused on critical aspects such as teaching-learning approaches in multilingual contexts, pedagogy in blended learning, and capacity building for teachers. By providing a platform for knowledge exchange, the conference empowered participants to collectively drive the FLN agenda in India.
Exhibition Showcasing FLN and Digital Initiatives
An exhibition centered around FLN and Digital Initiatives was organized from June 17-22, 2023, at Savitribai Phule Pune University (SPPU) Campus, to showcase innovative practices undertaken by states, union territories (UTs), and other organizations in the field of education. It facilitated the exchange of best practices, collaborations, and networking opportunities for startups and innovators, attracting over 1.25 lakh attendees and 80+ exhibitors.
Empowering Stakeholders through Seminars and Knowledge Exchange
A seminar titled 'Ensuring Foundational Literacy and Numeracy in the context of Blended Learning' brought together G20 countries on June 19, 2023, to share successful interventions, policy frameworks, and innovative approaches in the sector. This cross-cultural learning served as an inspiration to participants to accelerate the global mission for equitable access to quality education.
Culmination and Integration with FLN Mission
Stakeholders wrapped up deliberations on outcome documents on June 22, 2023, marking the culmination of extensive dialogues carried out over several months. All G20 members fully endorsed and adopted outcomes pertaining to the four priorities identified by the Indian Presidency for the Education Working Group, as all of them joined consensus on all technical issues and agreed to an 'Outcome Document and Chair's Summary', which was adopted during the meeting. The G20 Ministers also unanimously adopted the G20 Education Working Group Report and the G20 Education Working Group Compendium on Education Policies and Programmes in G20 Countries.[1] India's G20 presidency thus seamlessly integrated with the larger FLN mission, emphasizing the profound significance of foundational literacy and numeracy for all countries.
PM Modi highlighted in his message the criticality of FLN and said,  "Foundational literacy forms a strong base for the youth and India is combining it with technology." Additionally, he expressed happiness for foundational literacy and numeracy to be identified as a priority by G20 and urged everyone to work on it in a time-bound manner by 2030.
CSF's Participation at G20 Pune
CSF was among the select few philanthropic organizations who were invited to set up stalls in the exhibition. The stall showcased highlights from the organization's comprehensive four-pillar approach to FLN. Additionally, findings from the BaSE Survey on status of Edtech and highlights from products aimed at benefiting primary grades children like Tulna and Tic Tac Learn were showcased.
CSF was also present at state-specific stalls with members from our PMUs presenting state-level work done so far for FLN, these included states like Gujarat, Assam, Odisha, Bihar, Jharkhand, and Haryana. Even representatives from states where CSF does not have a presence such as Ladakh and Meghalaya expressed their admiration for CSF's efforts and sought support for their own FLN initiatives.
Our EdTech work, especially around the BaSE survey and Tulna, was introduced to key stakeholders in both CSF and non-CSF states. Several follow-up meetings are in the works to take related discussions forward. Lastly, Tic Tac Learn as a learning resource received interest from a diverse set of stakeholders including state and district-level bureaucrats, school leaders, teachers, parents, and students.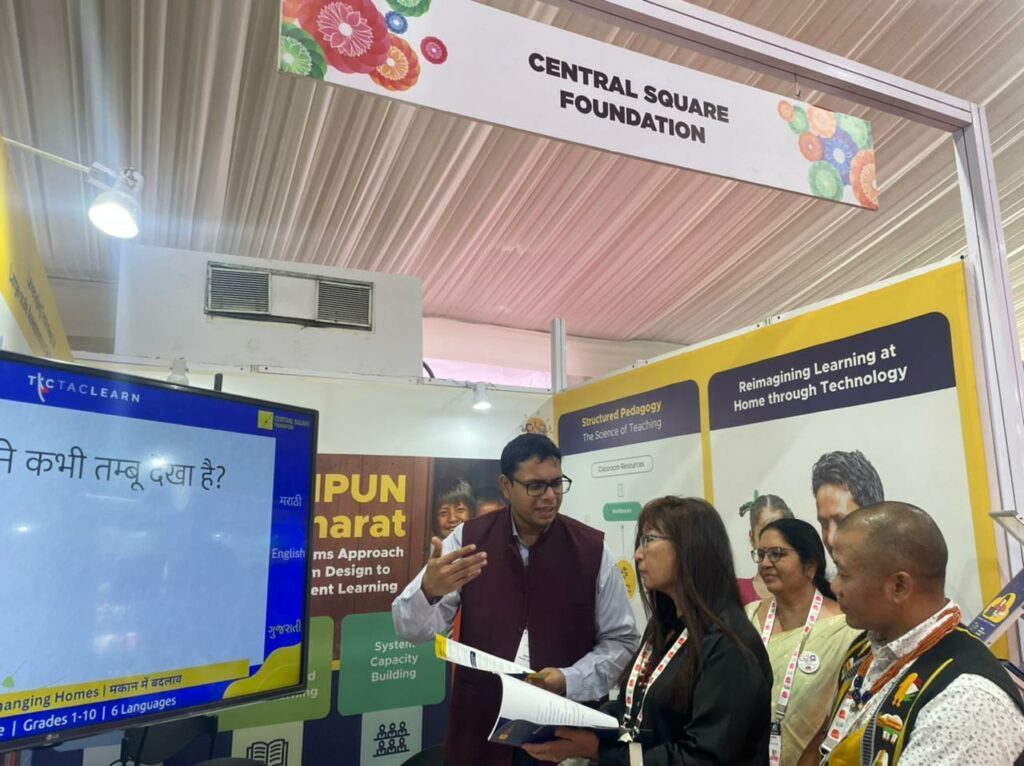 Vision Ahead
India's G20 presidency gave the NIPUN Bharat Mission a much-needed acceleration, as it transitions to a crucial third year since its launch. Through impactful events, conferences, and mass awareness campaigns, India demonstrated its commitment to promoting FLN as a critical building block for lifelong learning. By fostering collaboration, knowledge sharing, and innovative approaches, India and its G20 partners are paving the way for equitable access to quality education and empowering learners with essential skills for a prosperous future.
The journey continues, fueled by a collective dedication to the FLN mission and the vision of a transformed education landscape that leaves no child behind.
---
[1] PIB Press release on conclusion of G20 Education Minister's Meeting – https://www.g20.org/en/media-resources/press-releases/june-2023/emmct/
Authored by
Kohima Goyal
Project Manager, Government Partnerships, Central Square Foundation
Subscribe to our Newsletters