How EdTech Tulna is Helping Make Decisions Based on the Quality of EdTech Solutions
By 
Akshara Anand and 
Rashi Dhanani
Dec 28, 2021
The Indian EdTech market is characterised by its fast growth, catalytic innovation, and the enormity of the landscape. In 2019, there were ~5000 EdTech solutions available in the market comprising multiple purposes and target users.
The Indian EdTech market is characterised by its fast growth, catalytic innovation, and the enormity of the landscape. In 2019, there were ~5000 EdTech solutions available in the market comprising multiple purposes and target users. The EdTech ecosystem has grown multifold since then as states, schools, teachers, parents, and students adopted EdTech solutions for continued learning at home due to Covid-19. EdTech adoption happened via "high-tech" innovations like virtual classrooms and app-based programs, as well as "low-tech" solutions such as WhatsApp, TV, SMS, and IVRS for greater reach.
This vast and growing ecosystem has resulted in a complex landscape for users across government and private spheres to navigate when making EdTech decisions, especially with EdTech being increasingly incorporated into mainstream K-12 education. For example, if a state decides to launch an after-school learning program, they have to make very specific choices about what to incorporate within EdTech – using an app-based platform vs. a WhatsApp-based platform, parent-focused solution vs. child-focused solution, a gamified learning solution vs. assessment-based remedial learning solution. For these types of decisions to be made, firstly the state needs to be aware that such differing use-cases of EdTech learning softwares exist. Secondly, the state needs to decide on the most appropriate use-case for their context. Thirdly, they need to select a small pool of quality solutions from a larger pool that will bring the desired impact to learning outcomes. To navigate this complex process of multiple key decisions, states need support, both to understand what good EdTech looks like, and then to select the appropriate solution for their context.
While such evidence generation efforts support EdTech product companies in building a strong solution, it does not typically translate into more acquisition of users. In a crowded market, product companies struggle to signal that their solutions are of quality and will deliver impact.
Critical to successful EdTech adoption and easy decision-making is the availability of comparable, easily understandable information to make relative decisions on which products are best suited for each user's context. This spells a need for a common understanding of what good EdTech looks like and a way to measure it across EdTech products. Once demand starts seeking quality as a key aspect while selecting EdTech products, the supply of EdTech solutions will reach to meet this requirement. Ultimately, a shift in the ecosystem towards quality-led decision-making will guide both EdTech adopters, as well as developers towards striving for quality in demand and supply.
Over the last 2 years, Central Square Foundation, in partnership with the EdTech Interdisciplinary program at IIT Bombay, has been building EdTech Tulna – an EdTech evaluation index that aims to provide an unbiased quality assessment of EdTech solutions. 'Tulna', a Sanskrit word which means 'to compare' in English, is tackling some of these key challenges head on.
A shared understanding of good EdTech
The first pillar of EdTech Tulna's offering provides a common language by publishing standards and quality frameworks to build a shared understanding of what good EdTech looks like. In its approach to building standards, EdTech Tulna focuses on wide applicability. Its standards are research backed, but also guided by practice. The standards are specific to the requirement, subject, and grade of the user. Further, EdTech Tulna focuses on evaluation of product design and user studies. There is vast global evidence to suggest that quality EdTech product design impacts learning outcomes. By focusing on product design, EdTech Tulna builds a foundation of evidence upon which further studies can be run to determine the effectiveness of a product at scale, over time.
Toolkits for effective procurement decisions
The second pillar of the EdTech Tulna's offering provides easy to use, yet robust toolkits – comprising rubrics, reviewer guidelines and illustrations – to enable decision-makers to evaluate EdTech solutions for various high stakes decisions. Two Indian states have already adopted the EdTech Tulna framework in their EdTech software procurement processes and are using the toolkits to conduct evaluations of products who have applied for the tenders.
The government of Haryana has committed to procuring solutions to support one million senior school students with continued in-school and at-home learning via effective Personalized Adaptive Learning (PAL) solutions. EdTech Tulna has been selected as the technical evaluation framework for Request For Procurement (RFP), which is the official process of comparing and selecting a proposal. EdTech Tulna was customized by the state's requirements to create 'Haryana Tulna' which caters to the specific needs and context of the state. The government then set up expert committees who were trained by the EdTech Tulna team to use its toolkits to make nuanced and relative decisions on the quality of EdTech softwares. In a different instance, the government of Madhya Pradesh has released an RFP to procure PAL solutions for nearly 1000 schools. Here, the government has chosen to use EdTech Tulna Gateway, which is designed to provide a pool of quality solutions, as part of their pre-qualification criteria to ensure that all solutions considered meet a minimum benchmark of quality. EdTech Tulna has also built state capacity to carry out these evaluations independently. The organic demand seen from states for EdTech Tulna's standards and toolkits is encouraging.
Public evaluations by experts
The third pillar of the EdTech Tulna offering provides independent expert reviews of existing products in the EdTech ecosystem, evaluated using EdTech Tulna's standards and toolkits. EdTech Tulna thus directly fills the information gap on effectiveness of EdTech solutions. What makes EdTech Tulna valuable to EdTech developers is that it provides actionable assessment of product design. A cohort of leading organisations that had consented to public evaluations on product design already have their reports published on EdTech Tulna's Evaluation Centre, and more product evaluations are in the pipeline.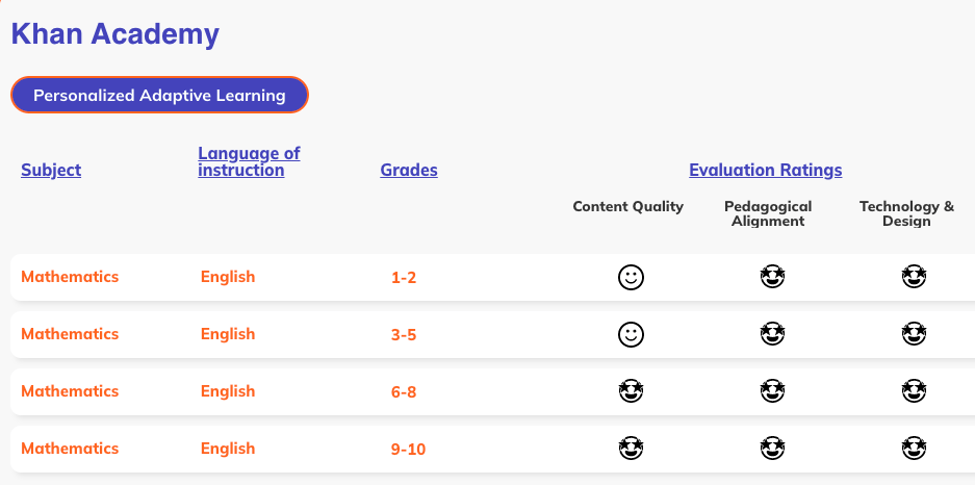 Start of a movement demanding quality
EdTech Tulna is a public good envisaged to help users across spheres; from supporting governments with high stakes decisions, to aiding retail investors in their portfolio decisions, to guiding the product ecosystem seeking to develop more robust solutions. As new innovations in learning theories, education research and technology emerge, EdTech Tulna will dynamically evolve to incorporate them and adapt to the changing needs of the ecosystem. It will continue to build its offering in a way that remains easy to use and scale, stays alive to the reality on the ground, and retains implementation as a core focus area balanced against research and rigor. Eventually, EdTech Tulna hopes to support all parts of the ecosystem – including retail users such as parents, schools, teachers – seeking to adopt EdTech solutions.
EdTech Tulna is the start of a movement demanding quality. Even as India's education system finds its feet after Covid-19, EdTech will continue to play a significant role in supporting and augmenting K-12 education. By enabling transparency and informed decision making, EdTech Tulna hopes to arrive at an evidence-first and learning-first mindset with EdTech. This realignment of the EdTech ecosystem requires immediate and focused rallying from all key stakeholders to incorporate quality as a key element in EdTech demand and supply.
Authored by
Akshara Anand
Project Manager, CSF
Subscribe to our Newsletters