In Conversation with Madhukar Banuri: Celebrating Two Years of the NIPUN Bharat Mission in India
By 
CSF Editorial Team and 
Madhukar Banuri
Jul 24, 2023
5 July 2023 marks two successful years of the NIPUN Bharat Mission in India. In an interview with CSF, Madhukar Banuri (Founder-Director, Leadership For Equity (LFE)) shares his thoughts on the progress made by the mission so far, with a special focus on the work being done in the Indian states to advance foundational literacy and numeracy for children. Additionally, he also brings to light the importance of different stakeholders at different levels in holding this momentum for FLN in the country to strengthen the education system in India.
5 July 2023 marks two successful years of the NIPUN Bharat Mission in India. In an interview with CSF, Madhukar Banuri (Founder-Director, Leadership For Equity (LFE)) shares his thoughts on the progress made by the mission so far, with a special focus on the work being done in the Indian states to advance foundational literacy and numeracy for children. Additionally, he also brings to light the importance of different stakeholders at different levels in holding this momentum for FLN in the country to strengthen the education system in India.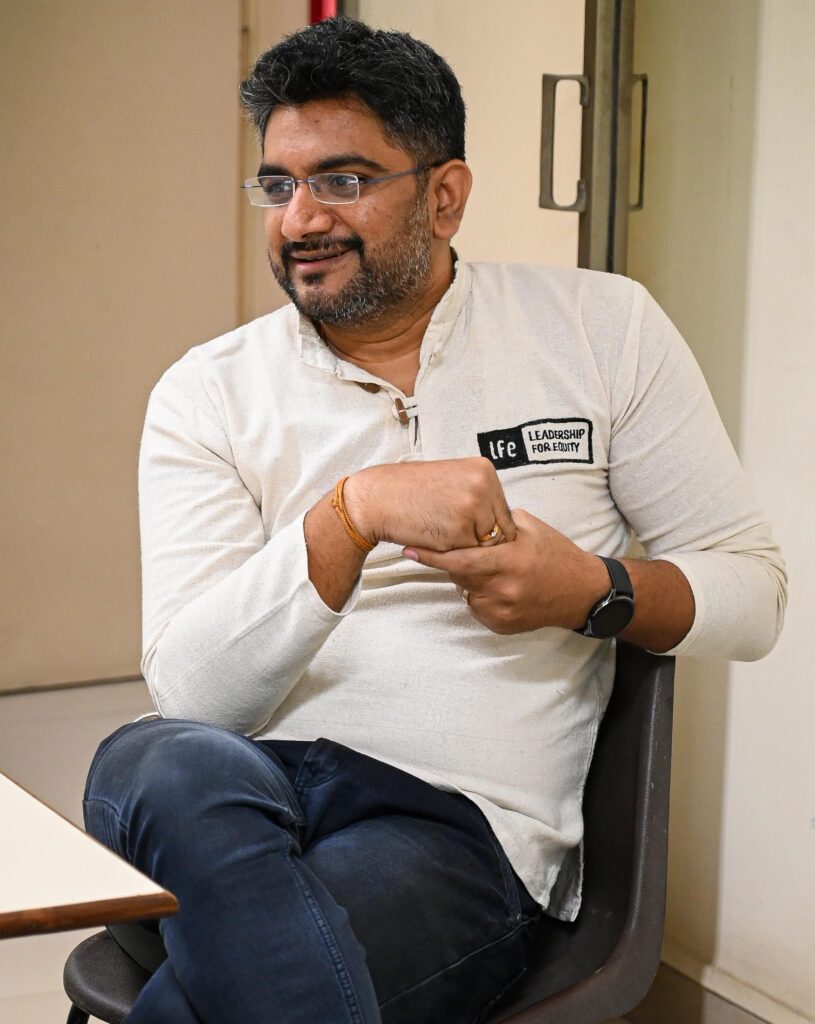 Q1. Comment on the relevance of the NIPUN Bharat Mission as a key lever in overhauling the education landscape in India.
The NIPUN Bharat Mission holds immense relevance in overhauling the education landscape in India. It addresses the critical need of focusing on foundational learning among primary school students, which was accelerated even more by the Covid-19 pandemic in the last few years. This focus is what forms the building blocks of capable future citizens of our country to lead a successful life. By prioritizing these foundational skills, the mission acknowledges the importance of a solid grounding in literacy, numeracy, and emotional wellbeing, without which students may struggle to comprehend higher-level concepts and face challenges in their further academic journeys. We have seen this time and again being highlighted by various systemic assessments. The ASER data has consistently called attention to the inability of higher grade students to read and comprehend a grade two textbook. In fact, the percentage of grade three students who cannot read a grade-two level text peaked at 80% in 2022 (as compared to 65% in 2005) and their inability to perform subtraction in grade three now stands at a striking 75% (as compared to 49% in 2005). In a way, the learning levels of our children have gone back by a decade!
We are at a crisis point in India's education journey.
Also, it must be noted that the mission guidelines talk about life skills and overall development of a child and not just literacy or numeracy skills. For students of any grade, these skills, their confidence, their ability to express themselves, and a safe environment acts as a tremendous catalyst to boost their learning journey. That is why the NIPUN Bharat Mission is not just relevant but crucial in ensuring that all children in India receive quality education that equips them with essential skills for lifelong success.
Q2. What are your views on the implementation and progress of the NIPUN Bharat Mission so far? Highlight a few state-level initiatives/models that have shown excellence and can be replicated by other states to strengthen foundational learning for children.
The progress of the NIPUN Bharat Mission has shown promising developments thus far in quite a few states in India- Uttar Pradesh, Tamil Nadu, and Assam are few good examples where significant momentum has been built for FLN. In Maharashtra, where LFE works closely with the Sarva Shiksha Abhiyan (SSA), State Council of Educational Research and Training (SCERT), and the CSF team, the NIPUN Mission has seen quite a bit of traction under the leadership of the State Project Director, Shri Kailash Pagare. Unlike many other states, the decision making for mission implementation is much more decentralized in Maharashtra. As a result of all of this, a two-pronged model of state + district efforts is working well so far.

At the state level, the SCERT and SSA are leading the mission by providing clarity to the districts through program guidelines, ensuring availability of teaching learning material (TLM) for classrooms including guidebooks for teachers, and overseeing the state-NGO collaborations, among others- all of which are further contextualized by districts along with launching their own versions of FLN missions, with the end outcomes of learning improvement on FLN competencies being in sync with NIPUN goals.

Another good example is that of the Pune district (zilla parishad) that initiated a 60-day targeted FLN program called Gunvatta Vridhi Abhiyan in December 2022. As part of this, teachers were provided a sample activities list and weekly time table focused on integrating FLN in language and Math classes being supplemented with TLM kits provided by the state. They also launched a monitoring and support app (Vinoba Bhave) for direct communication with teachers and field officers. Every Tuesday, the cluster heads were asked to update their school visit reports which monitored NIPUN progress on inputs on the app. This streamlined communication and coordination, enabling quick access to data and information for decision makers at DIET/zilla parishad. The baseline-endline conducted by the District Institute of Education & Training (DIET) in this 60-day duration showed an increase of 8% in the students moving from intermediate to advanced proficiency in FLN competencies. Additionally, a third party year on year data from the FLN assessments reflected improvement by 10% points increase in the Balvatika competencies of grades one and three.
Similar other district-level models of excellence also emerged in Maharashtra in 2022-23. The Nagpur Zilla Parishad launched a DISHA program focusing on strengthening classroom observations and usage of TLM using competency-specific videos on FLN. While the Nashik Zilla Parishad focused on rigorous teacher training, the Chandrapur Zilla Parishad on the other hand saw integrated efforts of DIET and ICDS department to orient respective officials towards mission goals from K-3. In all these district-level initiatives, the state ensured availability of abundant TLM, teacher guidebooks, and other necessary engagement material in schools.

What can be replicated from Maharashtra to other states is this two-pronged approach, where districts are encouraged to take more initiatives and active decisions to drive ownership, rather than being just implementation agencies. Such an approach can drive mission ownership at different levels.
Q3. How can states fortify their individual NIPUN Programs in order to achieve foundational literacy and numeracy for children by the end of Grade 3, by 2026-27?

Firstly, it is crucial to prioritize teacher training programs to enhance their pedagogical skills and expertise in teaching foundational skills effectively. Having said that, states should strengthen continuous development and support for teachers at the cluster level through mentors, cluster resource coordinators (CRCs), and school head masters (HMs), to enable them to adopt innovative and evidence-based teaching methods in the classroom.

Secondly, states should focus on developing and implementing high-quality instructional materials and resources that align with the broader FLN competencies and existing state curriculum. These materials should also be culturally relevant to cater to the diverse learning needs of students. For instance, in Maharashtra, the state has created 'Ganit and Bhasha Petis', (Numeracy-Literacy kits) each of which contains over 30+ resources developed by subject experts in literacy and numeracy. All 66, 000 primary schools in Maharashtra have access to these 'petis'. All of this together makes for more than sufficient resources for teachers and students to choose from based on their requirements.

Thirdly, states need to strengthen their monitoring and evaluation mechanisms. Regular assessments should be conducted to gauge students' proficiency levels and address learning gaps promptly. Data-driven decision making can enable targeted interventions and ensure that resources are allocated efficiently. Currently, Maharashtra is planning the launch of its pilot statewide FLN achievement survey under the Vidya Samiksha Kendra (VSK) initiative. Data generated from such surveys can help the districts and state level officers to take corrective measures and provide differentiated support to teachers across the state.

Lastly, I personally believe that achieving foundational competencies should be the minimum benchmark and not the ceiling we set for our students. There is no doubt that foundational learning should be the focus till 2026-27 but simultaneously we need to keep pushing the rigor and scope of what our students are capable of achieving. States should ensure that while prioritizing achieving FLN goals, our push towards 21st century high rigor skills should not be missed. In this regard, Maharashtra along with Amazon Future Engineer and LFE is working on providing coding and computer science education to 1,00,000+ students from zilla parishad schools across nine districts in the state.
Q4. FLN is undoubtedly gaining momentum across the country. How should we sustain this momentum around the importance of foundational learning and what role can key stakeholders like teachers, parents, policymakers, government administrators, and the community, play in it?

Sustaining momentum in a mission mode around the importance of foundational learning requires collective effort of multiple stakeholders. Teachers play a crucial role in implementing effective teaching practices and creating a positive learning environment. They should receive adequate training, clarity of structured pedagogical inputs, and optimum support to deliver high-quality classroom instructions.

Additionally, it is important to leverage the community and parents in the FLN Mission. They are vital stakeholders who can reinforce foundational learning at home by encouraging reading, providing a space for students to express their opinions, and engaging in regular communication with teachers. The 'Pahile Paul Maata Paalak Gat' program launched by SSA in Maharashtra is a wonderful example of parental involvement, especially mothers, in supplementing learning at home through simple activities for achieving FLN outcomes.

Policymakers need to ensure allocation of sufficient resources, both human and financial, to support foundational learning initiatives. They should prioritize providing research-backed frameworks and guidelines for three very important areas: assessments, teacher and system leader strengthening, and governance.

Government administrators, including the district zilla parishads, municipal bodies, and DIETs play a significant role in coordinating and monitoring the progress of the mission implementation. They should establish robust systems for data collection, monitoring, and evaluation to track the impact of interventions and make informed decisions rooted in data. Data-based decision review and cadence meetings are critical in ensuring the mission is on the right track.

Lastly, civil society organizations should support foundational learning by leading awareness and advocacy for the cause. Collectively, these stakeholders can create a sustainable ecosystem that prioritizes foundational learning and ensures its continued progress and success in the coming years.
Keywords
FLN
Learning Crisis
NEP
Nipun Bharat
Authored by
Madhukar Banuri
Founder-Director, Leadership For Equity (LFE)
Subscribe to our Newsletters