Toward Achieving Foundational Learning: Financial Provisions of the NIPUN Bharat Mission
By 
Ankit Sharma and 
Kunal Chauhan
Feb 20, 2023
In this article, we dive deep into financial allocations and provisions made for FLN for children in India, under the aegis of the NIPUN Bharat Mission. Additionally, it emphasizes on timely budget and financial planning, in general and for states in this context, to facilitate smooth undertaking of activities in future.
The National Education Policy (NEP) 2020 places the highest priority of the education system on achieving universal foundational literacy and numeracy (FLN) in primary schools and beyond by 2026-27. It envisages for every child to get proficient in Foundational Literacy (ability to read with comprehension) and Numeracy (ability to solve basic mathematical operations such as addition and subtraction). This foundational learning forms the basis of all future learning. Only once a child learns to read, s/he can read to learn. To this end, a National Mission on Foundational Literacy and Numeracy called "National Initiative for Proficiency in Reading with Understanding and Numeracy (NIPUN Bharat)" was set up in 2021 by the Ministry of Education (MoE). Accordingly, all State/Union Territory (UT) governments prepared an implementation plan for attaining universal foundational literacy and numeracy in all primary schools, identifying stage-wise targets and goals to be achieved, and closely tracking and monitoring progress of the same.
The Implementation Guidelines of NIPUN Bharat Mission provides a framework for designing the academic as well as administrative aspects of the Mission. Among other things, it also contains guidelines for financial allocations for FLN; this becomes key since budgets are crucial to driving and implementing programs, taking into account foreseeable expenditure.
Table below captures the financial norms given in the implementation guidelines for certain activities under FLN:
S. No.
Item
Financial Norms
1
TLM for implementation of Innovative pedagogies and School Readiness Module in all Grade 1 schools
Provision of up to INR 500 per child per annum up to primary level as per state specific action plan
2
Teacher Resource Material
Provision of upto INR 150 per teacher teaching at Primary level
3
Capacity Building of Teachers of Grade I – V
As per the in service teacher training norms of the scheme
4
Independent, periodic, and holistic assessments of students
Up to INR 10 to 20 lakh per district depending on the size of the districts and states
5
Development of a robust technology enabled Monitoring Mechanism
– For States/UTs, the provision of child tracking is under MIS component
6
Formation of PMU at National, State and District level
– For setting up and functional cost of PMU at State/UT level, financial support of INR 25 lakh to INR 1 crore per State/UT
– For setting up and functional cost of PMU at District level, financial support of INR 6 to INR 24 lakh per district
The financial support to states/UTs for NIPUN Bharat comes from the broader pool of Samagra Shiksha Scheme, an integrated scheme of school education covering preschool to senior secondary level. Accounting for 33% of the education ministry's budget of INR 1,12,899 crore for the next financial year, 2023-24, it is the largest scheme of the ministry with an allocation of INR 37,453 crore.
The Project Approval Board (PAB) constituted at the National Level for Samagra Shiksha, under the Chairmanship of Secretary (SE&L), is responsible for the planning process of the Mission. Among other functions, the PAB also discusses and approves the Annual Work Plan and Budget (AWP&B) of the states/UTs. The approvals of budgets are governed by the overall budgets allocated to the Ministry of Education and state's plans (including committed liabilities). Owing to the critical nature of FLN mission and target of achieving universal FLN skills in all children by 2026-27, it is imperative that planning for FLN gets requisite importance and priority within the overall plan for Samagra Shiksha from both Center as well as State.
The data from all State PABs for Samagra Shiksha shows that the Ministry had allocated INR 1873 crores for FLN in 2021-22 and INR 2359 crores for NIPUN Bharat in 2022-23. Cumulatively, Innovative TLM had been allocated the highest proportion in both these years, 80.20% and 91.20% in 2021-22 and 2022-23 respectively. While money for 'Capacity building of teachers (Grade 1 – 5)' constituted 11% of the sanctioned amount in 2021-22, it was only 2.4% in 2022-23.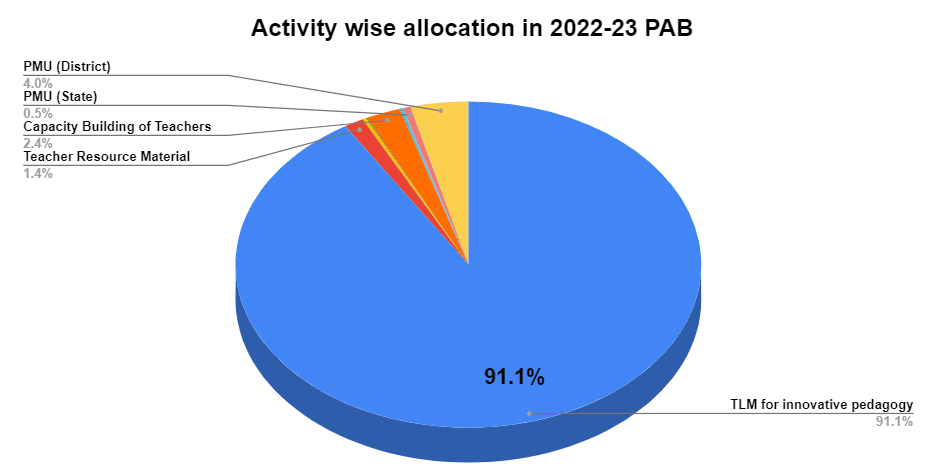 From an analysis of the monetary allocations of the past two years, it is evident that the Government of India has allocated a significant percentage under Samagra Shiksha towards FLN. States such as Bihar, Uttar Pradesh, Maharashtra, and Madhya Pradesh owing to the large volume of their education ecosystem have been allocated the highest overall amount for FLN.

*In addition to the above, some allocation was also made for Child Tracking under the MIS component for different States.
The ongoing PAB exercise at the Ministry of Education will assess demands raised by the states/UTs in their respective presentations for the next financial year. Given that two years have already passed, states have already created a strong foundation for undertaking various activities aimed towards achieving the Mission targets. Getting a sense of allocations attained by different states in previous PABs, more states are likely to seek money for components in which allocations were not commonly seen in earlier years, such as 'Display of Lakshyas/ targets', 'School Readiness for Grade 1 students' etc. Additionally, funds for components like Information, Education & Communication (IEC) activities can be sought separately in the upcoming PAB. In case there are any unutilized funds under 'Innovative TLM' head of Samagra Shiksha norms, the money can also be used to develop and distribute the IEC material.
States/UTs should also attempt to explore convergence with other schemes like STARS, PM SHRI etc. Such convergence should be ensured at the time of preparation and approval of the proposals for the Annual Work Plan and Budgets (AWP&B) to avoid overlapping in coverage. Also, the planning exercise should be conducted in a decentralized manner involving all stakeholders right from the grass-root level so as to make it realistic, achievable, and accountable. It is important to ensure a proper planning process based on these measurable outcomes so that the NIPUN Bharat Mission is able to showcase tangible benefits in the coming years.
Subscribe to our Newsletters